Carnival at Candlelight
Written by Mary Pope Osborn
Reviewed by Joan P. (age 8)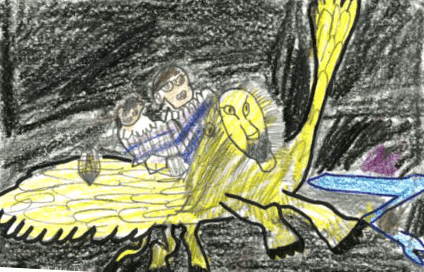 This book is about Jack and Annie going to Venice, Italy, to save the Grand Lady of the Lagoon. Merlin?s riddles are confusing and lead them to a castle dungeon and they escape. So the King of the Jungle carries them to the Ruler of the Seas that saves the Grand Lady of the Lagoon and everybody else. Read this book to find interesting facts like the flying lion of gold is the symbol of Venice.
I like the illustrations because they show you all the funny costumes. They are in black and white, so you can use your own imagination for the colors. When they?re looking at the map of Venice, there are a lot of details in the picture and I can imagine the colors.
My favorite part is when Jack and Annie fly in the air and see Neptune, the god of the seas. It?s interesting because only a few people get to see him. I like Jack because he always reads fact books, so I can learn more things. Jack uses books to warn Annie if a disaster is coming.
I recommend this book to people who like funny costumes and people who like to learn about the past. If you like books that are about cities and people who adventure into the past, then this book is just for you.