Midnight on the Moon
Written by Mary Pope Osborne
Illustrated by Sal Murdocca
Reviewed by Bailey N. (age 8)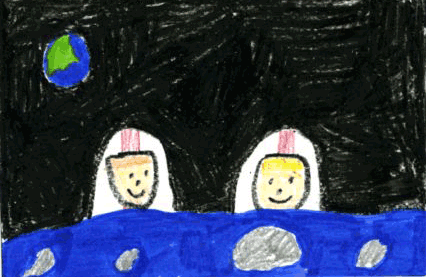 ?Wake up!? whispered Annie. It was midnight! This book is about Jack and Annie going to space to find the last M thing and to try to free Morgan. In every book in this Magic Tree house series the children go on a secret mission. While they are away, no time passes in Frog Creek, Pennsylvania, where they live, so they don?t have to tell their parents.
I like this exciting book because I like learning about space. When Jack and Annie go to the moon, they learn how hard it is to get up when you fall down on the moon. This book gets your attention. When Annie was about to open the air lock without a spacesuit, I felt scared and excited at the same time.
I felt thrilled the whole time I was reading this story, for example when Jack and Annie saw the moonman through the telescope. My favorite part is when Jack and Annie meet the moon man because he sneaks up on them. My favorite character is Jack because he tries to plan ahead. He tries to plan where they are going to go on the moon by reading a space book from Morgan. Annie does not always listen to Jack, so sometimes something goes wrong.
Have you ever been surprised by a moonman? This book is full of surprises! This is a good story to read before bed. I recommend this book to second through sixth graders who like space.