High Tide in Hawaii
Written by Mary Pope Osborne
Illustrated by Sal Murdocca
Reviewed by Olivia M. (age 7)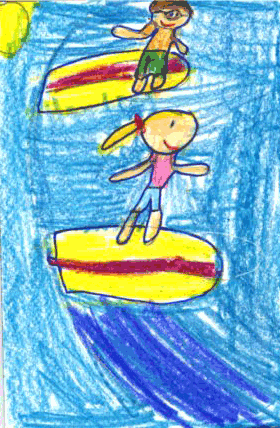 High Tide in Hawaii is the 28th. book in the Magic Tree House series. If you read the first book, Dinosaurs Before Dark, you will know how Jack and Annie found the magic tree house and met Morga, the magical librarian. In this adventure, Jack and Annie go to Hawaii. They meet new friends named Boka and Kama. When they invite Jack and Annie to surf, something really frightening happens. This book is like the other Magic Tree House books because they always find a new friend, a spell, and something to do. This time, the mission is to find a special magic and build ?a special kind of ship that rides the waves, both high and low, on every kind of trip.?
My favorite character is Annie because she is active. Annie never surfed before, but she tried and she did a great job. It made me want to surf. I think I would feel kind of scared and kind of happy. I can remember climbing the monkey bars for the first time. I didn?t quite make it because the last one was wet!
Do you think it would be scary to have salt water going in your eyes and up your nose? This happened to Jack and he was very frightened. When I was about four, at the beach, my friend Zack had goggles and a shark cap on his head. He went under water and grabbed my feet! I slipped on the slippery shells and hurt my cheek. I was very frightened, so I can imagine how Jack felt.
I learned lots of facts in this book. For example, that some islands are made by volcanoes, and how the wind and the birds bring seeds. I like this book because it is funny, surprising, and amazing. I think young and old would like this book.