Thumbelina
Written by Hans Andersen
Illustrated by Michael Adams
Reviewed by Alex M. (age 8)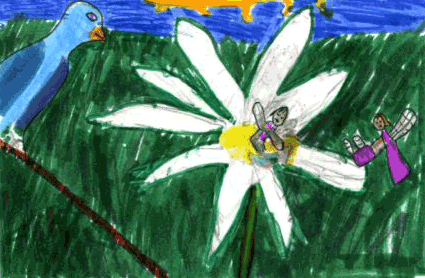 This story is from a book of fairytales by Hans Christian Anderson. This story is sad because Thumbelina goes through hard times, for example, a toad?s mother tries to force Thumbelina to marry her ugly son. Later, she almost has to live underground for the rest of her life.
I felt awful when Tiny was stolen by the frog to marry her son! She was placed in the middle of a stream so they could go back to get her. Read this book and you will find out how she gets away. This story is like The Wild Swans, also by Hans Christian Anderson, because in both stories the girls go through hard times.
I like the illustrations by Michael Adams because they are very elegant and they help me understand the story. There are interesting words in the story, for example, ?She was as tender and delicate as a beautiful rose-leaf?. As you can see, the author gives you great ideas for what Thumbelina looks like.
In this story Thumbelina helped a swallow, so read this book and you will find out what he gave her in return. This book is for people of all ages who like adventures! So go to your local library and pick up this book. I know you won?t be able to put it down!