Perfect The Pig
Written by Susan Jeschke
Illustrated by Kris Nelson
Reviewed by Elise O. (age 8)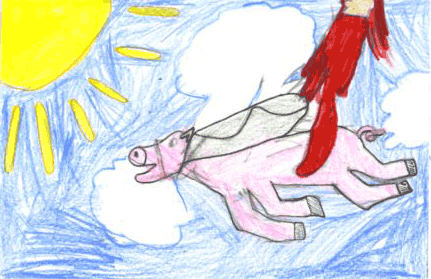 Perfect is a pig that helped a large sow, so the sow told Perfect to ask for a wish. Perfect said he wanted wings, so he got wings!
My favorite part is when Olive Perfect?s owner thinks he?s a dream, but she has one more painting of him and remembers he?s not a dream. I feel sorry for Olive and Perfect when they are not together anymore. This is a great book to me because it is interesting and mysterious. Some people might think the story is sad because he was so small his mother didn?t know he existed and because his brothers were mean to him.
The illustrations are black and white. I would prefer them to be colorful because I like colorful books. Susan Jeschke uses lots of expression in her drawings. A sad picture is when Perfect sees a dead pig hanging in a butcher?s shop window. He looks horrified!
This story is imaginative because no real pig has wings. I like this book because it?s about a pig that finds a good owner and lives happily ever after, until . . . You?ll have to read this book!
This is a great book for parents to read to children. I recommend this book to mystery readers and to authors and illustrators who write or illustrate books like this. 6 to 12 year olds would enjoy this story.