This is the Rain
Written by Lola Schaefer
Illustrated by Jane Wattenberg
Reviewed by Nathaniel K. (age 8)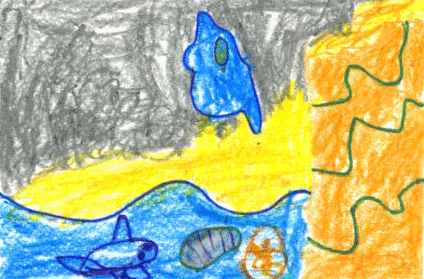 If you like the water cycle and poems, I?ve got the book for you. It?s called This is the Rain. It?s the water cycle and a poem joined together. The illustrations are funny and they explain the environment. They look like photographs on painted pictures. The fish look as if they?re flying in the sky.
I like this book because the illustrations are very realistic. The fish look real, the animals look real, everything looks real. The picures help me imagine another world. The starfish look like stars because they have five arms as stars are often drawn. I?ve never seen another book where they use sea stars for the night-time sky.
The book also uses scientific words like ?porous?. I had to look ?porous? up in a dictionary to find out what it meant. Porous means ?dry land with holes and cracks where rain, air, and sunlight can go?.
Read this book to see the funny ending. I recommend this book for poets, illustrators, and kids eight to eighteen. You won?t be able to resist ?pouring? over this book!