Rapunzel
Written by Paul Zelinsky
Illustrated by Paul O. Zelinsky
Reviewed by Bronte F. (age 8)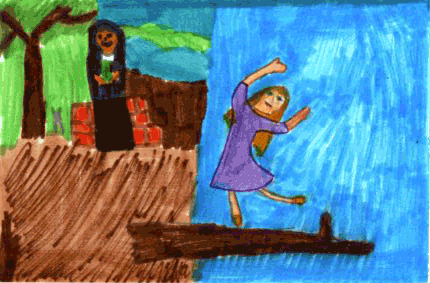 This book is called Rapunzel. It is a book about a wife who?s going to have a baby. One day she sees a bed of rapunzel, a kind of plant, in a garden that is owned by a wicked sorceress. She wants very much to eats some. When her husband gets the rapunzel the sorceress appears and makes a terrible deal.
My favorite character is Rapunzel because she has long hair. I like the illustrations because they use beautiful colors. Rapunzel reminds me of my friend Janessa because she has the same hair color and she has long hair like Rapunzel. As I read the book, I felt surprised, sad, and interested. For example, when the sorceress scared the prince, I felt scared!
I like how the author wrote the words. When I read them they give me feelings. The words, ?The herbs look luxuriant . . .?, make me feel relaxed. I really like how the illustrator put in all the details. For example, when the sorceress is taking Rapunzel to the tower in the woods, the tower is so far away in the picture it is like you are Rapunzel and you are walking towards the woods.
If you like fairy tales, Rapunzel is the book for you! When you have nothing to do, read this story! If you can?t read, get your mom or dad to read it to you. You will be surprised.