Slinky Scaly Snakes!
Written by Jennifer Dussling
Reviewed by student in Mrs. Gibbs' 2nd Grade Class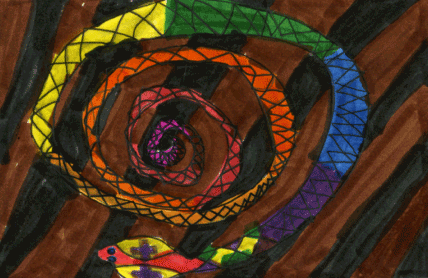 I think that this is the best snake book ever because it has photographs of real snakes up close. Gaboon vipers in a pile of brown leaves look like brown leaves.
The book made me wonder, Wow! How do snakes do such amazing things? It reminds me of the time we went on a field trip and found a baby grass snake.
My favorite part of the book was the fact that a rock python can eat a whole gazelle. I think that it is awesome that a snake can open it?s mouth so wide. It?s almost as if the snake?s mouth is made out of elastic!
This book is an interesting fact book about lots of kinds of snakes. It tells about what they do and where they live. I think someone who likes snakes would enjoy this book.