Look to the North, A Wolf Pup Diary
Written by Jean Craighead George
Illustrated by Lucia Wachburn
Reviewed by Faith M. (age 8)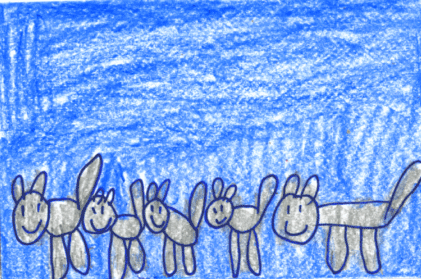 This book is about wolves that are a family. On each page the wolves get older. They go from one day old puppies to ten and a half month old adults. When they get older, their parents leave them. The young wolves have to find food, water, shelter, and their own space, just like all living things.
I like Talus because I like little wolves. Talus is the last one to nurse on his mom. Talus reminds me of when I was a baby because I was the littlest baby.
I feel interested because I like the pictures. I think they have good colors. It looks like the illustrator worked hard. The wolves look like real wolves. My favorite picture is when the wolves are playing because it reminds me of when I was playing with my brother. When they play outside with their family I think they are having fun.
If you like wolves, read this book. This is a good book because it has a lot of facts. Kids 5 through 15 would like it.