Because of Winn Dixie
Written by Kate DiCamillo
Reviewed by A.T. (age 8)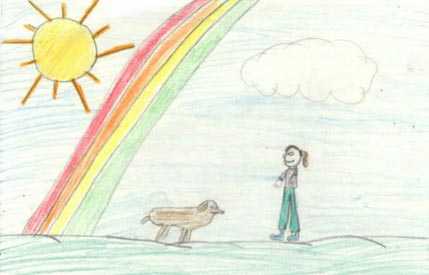 The book Because of Winn-Dixie is about a girl named Opal who moves to Naomi, Florida with her father. When she went to the supermarket called Winn-Dixie she finds the boss screaming at a poor dog. Opal felt bad for the dog,so she says it's her dog and tries to get its attention. So she calls the dog Winn-Dixie and he comes right over to Opal. She takes Winn-Dixie to her father and asks if she could keep Winn-Dixie. Opals father says yes, of course. Without Winn-Dixie, Opal wouldn't have had as much fun with her friends. You can also learn a lesson from this book. I learned that you should treat the poor as well as you treat the rich. Someone would read this book to learn a good lesson and read a very interesting book.
My favorite part of the book was at the end because Opal invited all of her new friends, that she made with the help of Winn-Dixie, to her other friend's house. I liked that part because the guests had so much fun and it made me happy because Opal wasn't rich and her friends weren't either. Sometimes poor people are unhappy but they weren't even though they were poor.
Opal changed a lot from the beginning of the story because she was sad and didn't have any friends and she didn't have much fun. At the end of the story she was happy, had fun, and had many friends.
The story reminds me of when my friend moved far away. It reminds me of when Winn-Dixie runs away. Both Winn-Dixie and I felt sad and lonely.
If you are a dog lover you would really adore and enjoy this book. A kind of audience that would like this book also has to like mysteries a little. The relationship between Opal and Winn-Dixie is a caring and extraordinary one because usually kids get friends by themselves but Opal became friends with Winn-Dixie. When I read this book I learned that if you get a dog, it takes a lot of responsibility to take care of an animal. This book is great!