The Wizard of Oz
Written by Frank Baum
Reviewed by A .G (age 8)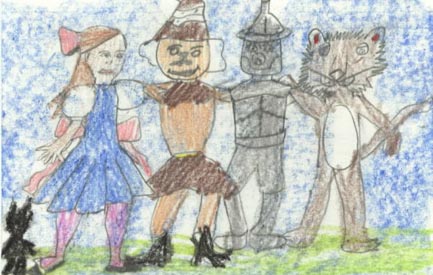 The book I read is about a girl named Dorothy that gets stuck in a cyclone (tornado). She fell asleep during the cyclone and had a dream. Suddenly, there were elves all around her. There was a nice witch too. The witch told Dorothy to follow the yellow brick path that was in front of her. On Dorothy's journey she met a Scarecrow, a Tin-man, and a Lion. They were all on their way to see the Wizard of Oz. When they all got to the castle of Oz, they got their wishes granted. The Scarecrow got a brain, the Lion got courage, the Tin man got strength, and Dorothy got her wish to go home. When she woke up, she went outside; and the cyclone stopped and everything was beautiful. Dorothy was glad to be home again.
I think someone should read this book because it is a really good book. It has adventure and is very exciting. Once something happens, you already want to know what is going to happen next.
If you are a person that likes adventure and characters that can't be real like a live scarecrow then you should read this book.
My favorite part in this book is when Dorothy meets the Tinman. I like it because the Tinman is very funny. He is funny because in the book, the Tinman forgot how to walk.
The story reminds me of when I went driving to Florida with my family. On the way to Florida I fell asleep like 1,000 times and I had a dream like Dorothy did when she fell asleep during the tornado.