Ramona The Brave
Written by Beverly Cleary
Illustrated by Alan Tiegreen
Reviewed by K. H. (age 8)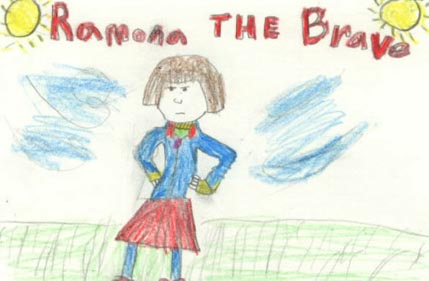 This story is about a girl named Ramona who overcomes her fears. Ramona is in first grade with a teacher who does not understand her. Ramona's teacher starts being nice to her because she starts feeling sorry for Ramona. Ramona also has another change coming. Her house is getting another room. Every six months Ramona and Beezus would take turns in the room and Ramona was the first to try it out. Soon she becomes scared alone in the dark. Will Ramona ever overcome this horrible fear? To find out you'll have to read this book. It's the best book ever!
Someone might want to read it because they probably would want to find out if Ramona will ever overcome this horrible fear. It can also help you deal with your own problems, like if you are afraid of the dark.
The lesson that was learned was that you shouldn't judge a teacher until you get to know him or her good. You may find out that you actually like the teacher after being in his/her class for awhile. My favorite part was when Ramona had won a game against a boy in her class. I liked this part because I wanted Ramona to win.
I found Ramona's parents interesting because they paid more attention to the bigger child, Beezus. Many children can relate to this because they may have a younger sibling that gets more attention than them.
Ramona reminded me of myself once because I thought my teacher was mean from rumors, but it I didn't listen to the rumors, and gave it a chance and everything turned out okay.
You should read this book. It might remind you of when you were afraid of something.