The Elevator Family
Written by Douglas Evans
Reviewed by E.C (age 8)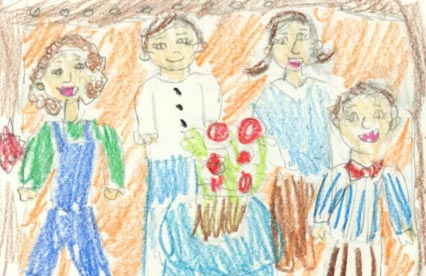 The Elevator Family is about a family named the Wilson's who go to the San Francisco Hotel and realize there are no more hotel rooms. So they decide to live in the elevator of the hotel! For three whole days, Mr. and Mrs. Wilson and their ten year old twins,Winslow and Whitney, ride all of the floors saying hi to startled guests who ride the elevator with them. The Wilson's really enjoy the elevator as their room and greeting guests who drop in.
The lesson that I learned is to be nice because in the story, the Wilson's were nice enough to live in the elevator of the hotel without complaining.
I would recommend this book to people who love funny stories and enjoy riding elevators. Someone would want to read this book because it has funny parts and one of the interesting parts of this book is that it doesn't have a chapter 13 because that's how an elevator was made because the number thirteen is supposed to be bad luck. Also, people should read it because this book is really funny and if they like it, they should recommend it to someone else.
My favorite part is the Wilson's don't mind having the elevator as their room. I like this part because it's good to be considerate. Another part that is interesting is that I am a twin and there are twins in this book. This book reminds me of when my family goes to hotels and rides the elevator to our assigned room. I thought the book was really funny and once I started to read the book, I just couldn't put it down. I also think that this book is a good book to read when you are thinking about funny stories about elevators. So please read The Elevator Family and you will be laughing very, very, hard!