Karen's Tea Party
Written by Ann M. Martin
Reviewed by AH. (age 8)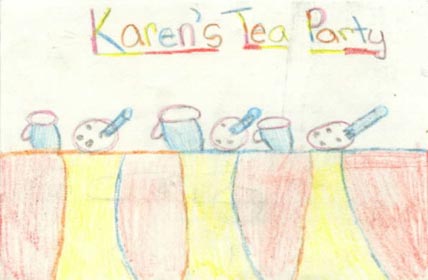 Karen's Tea Party is about a girl named Karen Brewer. Karen doesn't have good manners. Karen's dad sends David Michael and Karen to Mr.Peabody's School of Dance and Charm to learn manners and nice dancing. Karen is very happy and starts buying a dress for the first day of school, but David Michael is angry and doesn't want to go. Then Karen has a tea party so she can practice good manners with her friends before attending the first day of class. Karen does everything right at her tea party, but Karen's friends get into a fight because Karen is to bossy to them. Read the book to find out the rest.
The lesson of the story is that you should have good manners. Also, that if you have good manners people will like you more just like people liked Karen and David Michael better. For example, Karen and David Michael had good manners at school by being nice to their teacher and asking a girl or boy if they would take this dance. They were practicing their manners from their school.
My favorite part was when Karen danced with a lousy boy named Ricky. Karen didn't know that she looked bad dancing with him. Also, I liked the part where Karen burped at the table because it was funny when she did it in front of her dad.
I would recommend this book to a friend because it is very funny. Karen and her brother burp at the table and that made me laugh because that sometimes happens at my house. Another funny part is when Karen dances with Ricky. Kids would find this book funny because it has parts in it that they can relate to. It also teaches you good manners while having some fun.