Go, Dog Go!
Written by P.D. Eastman
Illustrated by P.D. Eastman
Reviewed by Sara L. (age 6)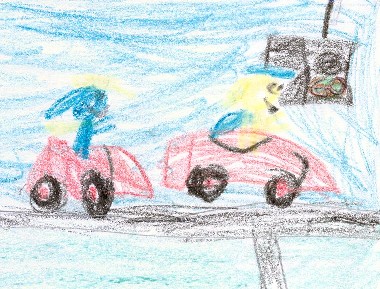 This story is about dogs who can drive in cars and the dogs can talk. The dogs are all different colors and big and small. The dogs move all different ways.
I like this book because the dogs had a party. The party was funny because I liked it when a dog jumped in the garbage. The best part was when two dogs came together and one dog said, "Do you like my hat?" because I think the dogs had nice hats. This story has a pattern in it and the pattern is opposites. An opposite is when you are up and down or right and left. I learned about opposites.
I think my sister should read this book because she likes to play baseball and there is a page with dogs playing baseball. She likes to read funny books.