The Bad Beginning
Written by Lemony Snicket
Illustrated by Brett Helquist
Reviewed by R.S. (age 9)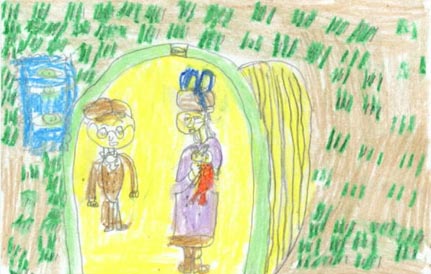 The Bad Beginning by Lemony Snicket is an exciting book. The story starts off with a fire and the Baudelaire children's parents die. A guy named Mr. Poe brought them to Count Olaf's mansion because there was no one else to care for them. Count Olaf is a person who had a disgusting mansion and teeth. He also has a tattoo on his ankle. When the Baudelaire children arrived at Count Olaf's mansion, he reveals his plan that he is going to steal the Baudelaire fortune. The Baudelaire children were treated poorly and they were getting so tired from doing so many chores but Count Olaf didn't let them rest. Count Olaf presents a play. The play is when Count Olaf marries Violet. Will Count Olaf marry Violet? Will Count Olaf get the Baudelaire fortune? You will have to read this book to find out!
The Bad Beginning by Lemony Snicket is an excellent book. One thing that's excellent is the illustrations. One illustration shows the mansion on fire when the parents died. The picture was so realistic it made me feel like I was really there. Also, it showed what the author is talking about. There were interesting characters in the book. One character named Sunny bites everything she sees. Another character named Violet makes so many inventions. Finally, a character named Claus likes to read a lot! This book is very funny! You will find yourself cracking up as you turn the pages. Count Olaf is a extremely wild looking character. He has a tattoo on his ankle and has out of control gray hair. Sunny will make you laugh because she always says the wrong thing. The Bad Beginning has great illustrations, interesting and funny characters!
I recommend this book to people that like adventure books. One reason is that it has an exciting plot with many twists. Another reason is that you feel that you are in the story as the Baudelaire children survive the evil Count Olaf. There are many action scenes as they confront Count Olaf and try to defeat him. This book is great because of its unfortunate topic. I really recommend this book if you want to read about adventures!