The Candy Corn Contest
Written by Patricia Reilly Giff
Illustrated by Blanche Sims
Reviewed by Rei E. (age 8)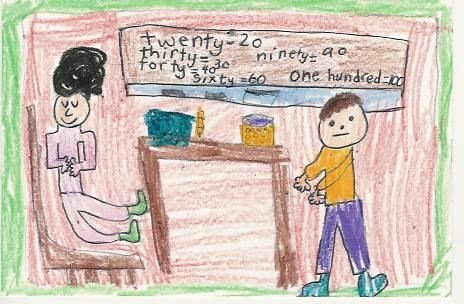 At Thanksgiving time in Ms. Rooney?s class, there was a candy corn contest. A candy corn contest is when there is a jar that has candy corn and you have to guess how many there are.
Richard, a boy in Ms. Rooney?s class, was going to have a sleepover party during Thanksgiving weekend and only boys are allowed. Richard sits behind Matthew. They are friends, but not best friends. He invited Matthew and all the other boys in Ms. Rooney?s class. But Richard doesn?t want Matthew to come because Richard thinks Matthew smells bad. But Matthew didn?t know it and he was really excited to go to the sleepover.
Everyone was excited about the candy corn contest. And everyone wanted to win! One day when the class was in the cafeteria making applesauce, Richard ate three candy corn from the candy jar. After he ate it he was worried because what if someone finds out he took three candy corn!
Matthew told Richard he wasn?t coming to the sleepover because Richard had made fun of him. Richard felt bad that Matthew wasn?t coming to his sleepover party, and he felt bad for making fun of Matthew for stinking. Matthew gave three candy corn to Richard because Richard told Matthew he had eaten some and then Richard said to Ms. Rooney, ?I ate three candy corn.? Emily won the candy corn contest. She said, ?278 candy corn!? She was right.
My opinion is that it was a great book. The great part was that there is candy in the book because I love candy. Sometimes I feel like Richard felt when he wanted to eat all the candy corn! Do you like candy?
I thought that Richard should not have hurt Matthew?s feelings in the book, because Richard might feel the same way as Matthew sometime. I was glad they became friends at the end.
I recommend this book to you because you might like candy. Do you? And I recommend this book to my little brother, Shun, because he likes candy.