Karen's Reindeer
Written by Ann M Martin
Reviewed by C.M. (age 9)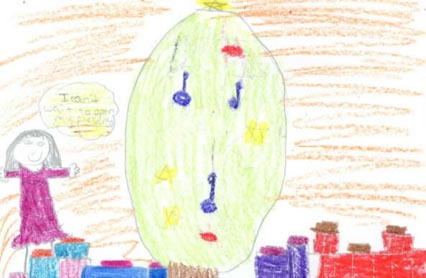 Karen's Reindeer by Ann M. Martin is a wonderful book! It was almost Christmas time and Karen was so excited! She wanted to help everyone so Santa would give her presents. When Karen was helping her grandma she thought she knocked over her grandma's very special vase. Karen hid the vase in her room so no one would find out. That night Karen saw a reindeer in her back yard. Karen thought the reindeer was watching to see if she was behaving. She thought the Reindeer was a spy for Santa. The next day the class picked out of a hat to see who they were for the play. Karen wanted to be Rudolph, the star of the show. Instead Karen picked elf #4, a background dancer. That afternoon Hannie called Karen and faked that she was sick so Karen could be Rudolph. The day of the show Hannie was elf #4 and Karen was Rudolph. A few days later it was Christmas and Karen heard a noise downstairs. Karen thought it was Santa. She went downstairs with the broken vase and poked her head out. It was her grandma looking for the vase! Will Karen's grandma ever find the vase? Does Santa think Karen was good for Christmas after all?
I really enjoyed reading this book. Karen's Reindeer was interesting because Karen was always curious in the story. Also, Karen was always rushing for the next interesting thing to happen. In the story, a lot of characters were friendly. One of the characters was Karen because she helped other people in the story. Another person who was friendly was Hannie because in Karen's class play Hannie let Karen be Rudolph. In this book, I learned two lessons. One lesson was that you should always tell the truth. Another lesson I learned was that you should trust other people you know. Karen's reindeer was interesting, the characters were nice, and I learned fabulous lessons.
I would recommend this book to people who like mysteries. Karen's Reindeer makes you very curios as you are reading. Also, I would recommend this book to kids who don't like to stop reading. Lastly, if you like to read chapter books this is a great chapter book because the chapters aren't long. There are twenty quick chapters. Don't worry; the book won't take that long. If you like mysteries you should read my book!