Find a Stranger, Say Goodby
Written by Lois Lowry
Reviewed by J.B. (age 9)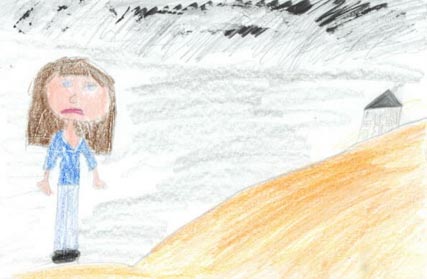 Find a Stranger, Say Goodbye by Lois Lowry is a very detailed story. Natalie Armstrong has graduated from high school and is hanging out with her friends. They are talking about college. Natalie is almost done with her exam. When she fills out her final question, she writes about her adoption. Natalie feels very suspicious as she thinks about the adoption some more. She then shows her parents her last question. Mr. and Mrs. Armstrong are upset by this. None of them brought up the subject again. The next week, Natalie gets a summer job. On her off days, she sets to work to find her real mother. Natalie must travel many different places to do this. Finally, she finds the lawyer who helped with her adoption. The lawyer can't give Natalie her mother's address. So she still can't find her real mother. Can Natalie continue her search? Will she ever find her real mother? Or will she give up hope?
I really enjoyed reading Find a Stranger, Say Goodbye. This book has very interesting characters. Natalie is the most interesting character in the book because she is very friendly, kind towards everyone, and very caring. The other most interesting character was Julie because she shares about her childhood, and also shows her diary. The realistic letters were very neat. The diary entries by Julie looked as if they were written by a real girl, not from an author's mind. Also, the letters Mrs. Armstrong wrote to her grandmother were all very detailed and clearly written. Each of the letters has their own topic to tell about. This book has wonderful speech lines that people say. All the speech is fantastic because it's all so real like the author took it from real life and didn't research a word. They all made so much sense. Not one sentence didn't make sense. Find a Stranger, Say Goodbye was a wonderful book because it had interesting characters, realistic letters, and fantastic speech lines. When I started reading this book, I was on the edge of my seat to find out what happened!
I recommend this book to people who like to try and solve mysteries, turn words into pictures, and read different diary entries. I would recommend this book to try and solve mysteries because the book gives a lot of clues to finding Natalie's mom. Also, people who like to turn words into pictures because although it has no pictures, you can easily picture what is happening. Finally, I would recommend this book to people who like to read letters and diary entries. I think that many people would like Find a Stranger, Say Goodbye for many reasons.