The Magic Tree House: High Tide in Hawaii
Written by Mary Pope Osborne
Reviewed by E.P. (age 9)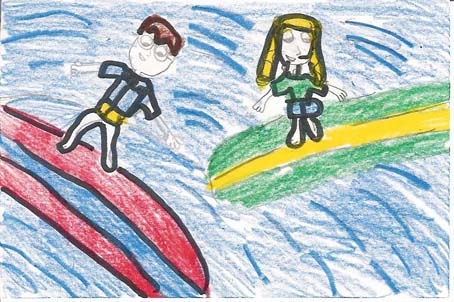 In the book High Tide in Hawaii, Jack and Annie's mission is to find a special kind of magic. To find the special kind of magic they have to build a special kind of ship that sails smoothly through good and bad times. Soon Jack and Annie arrive in Hawaii. They meet friends named Boka and Kama. Their new friends take them surfing, but a big wave is coming their way. The children worry that the wave will hit them. The wave helped them realize the type of ship they had to build. Read this book to see if they accomplish their mission.
I enjoyed reading this book. One reason why that is is interesting. It is fun to predict what amazing things will happen next. Another reason why that is this book has caring characters. Jack, Annie, Kama, and Boka help each other to escape from the wave. This book has a lot of details. The details describe what the characters reactions are. So you can see, I like this book because it's interesting, has a lot of details, and caring characters.
Annie is an interesting character. One reason why is because smart. When something is wrong she knows what to do. Also she is kind. Annie helps other characters. She is playful. She went surfing with Boka and Kama. Annie is an interesting because she is smart, kind, and playful.
This book is like the story Afternoon on the Amazon. One way is because both stories have the same characters. They are Jack and Annie. In both books they go on exacting adventures. In afternoon on the Amazon they go to the Amazon forest and in high tide in Hawaii they go to Hawaii. In both stories Jack and Annie solve the mystery. In short, these books are alike because they have the same characters, go on adventures, and Jack and Annie usually solve the mystery.
My favorite part was when Jack and Annie solved the mystery. It was exiting. To start with, it was exciting to read how worked they together. They went surfing, and then Jack got hit by a wave. He got out of the water and saw a huge wave was going to hit his friends. Jack then warned them to get out and they did. After, they ran far away. I liked this book because its exiting and I found out the riddle.
People who like having fun in Hawaii will love this book!!! It does not matter what age you are. You've got to read it.