Peanut Butter and Jelly
Written by JoAnna Nelson
Illustrated by B.K. Taylor
Reviewed by C.H. (age 7)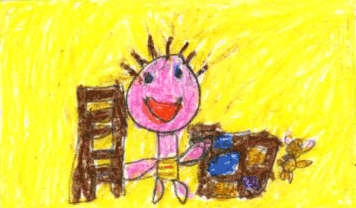 The boy liked food, but he likes peanut butter and jelly the best. He went to his grandparents to eat peanut butter and jelly. The boy is happy about the food. He likes the peanut butter and jelly. The boy put a big sandwich in his mouth. Then he got a big mouth.
I like the sandwich part because he will have a big tummy. I also like where he bites the bread with his big mouth. The pizza part is funny because he thinks the pizza is a treat. I like when the grandpa asked him if he wanted peanut butter and jelly. I like the boy because he eats a lot. I like the pictures because they are funny. The funniest picture was when the boy ate a great big sandwhich.
I recommend the book to my brother because there are funny parts. My brother will like when the kid had a big mouth with food in it.