Whose Mouse Are You?
Written by Robert Kraus
Illustrated by Jose Aruego
Reviewed by D.J. (age 7)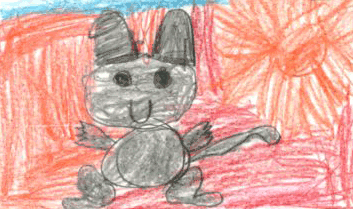 The mouse had nobody. The mom was inside the cat. The dad was caught in a trap. She was far from home. He has no one. He got his family back. He also got a new baby brother.
Yes, I like the book a lot. My favorite part was when the mice were racing. I also liked when he was shaking the man out of the cat. Then he freed his dad from the trap. The two little mice were my favorite characters because they were racing. This book reminds me of when my dad got trapped. I liked the pictures because the pictures show me what the characters were doing in the story.
My mom will like the book a lot because of the funny parts. She will like when the mouse was shaking the cat. I want my mom to read the book.