The Train Ride Story
Written by Joy Cowley
Illustrated by Val Biro
Reviewed by D.U. (age 7)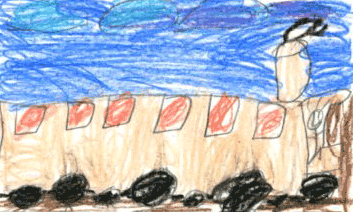 One day a girl went home on a train. When the train stopped four characters went in the train. A character was telling the girl we are looking for a story. The girl said there is no story here. Then came the ticket taker. He said to the characters, "do you have tickets?" The characters did not answer. On the next stop the characters got off.
I like the story because it makes me want to go on a big train again. If I go on a train again I will feel happy. The book made me feel happy because I remembered when I took a train ride. I liked the characters because they were silly. It was silly when the gorilla was dancing. My favorite character was the clown because the clown made a cartwheel.
I recommend the story to my sister. I want my sister to read this book because she will want to go on a train.