The Missing Tarts
Written by B. G. Hennessey
Illustrated by Tracey Campbell Pesrson
Reviewed by G.A. (age 7)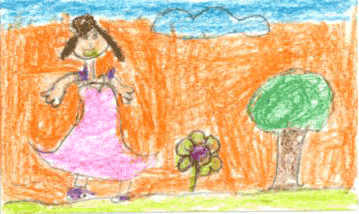 The little king of hearts took the tarts. The queen asked where were the tarts. The queen then said to check the cupboard for the tarts. The little girl told her to follow the sheep. The little boy told her he found a clue. The moon said that she will find the tarts. The star said the tarts were not far. The queen saw the tarts.
I liked the book. I liked when the king had no tarts. I also liked when the queen found the tarts. My favorite character was the queen because she found the tarts. I liked the pictures because they used a lot of colors. I felt happy when I read the book because I liked looking at the pictures.
I recommend this book to Sabrina and Salvador. They will ike the book because they would like the queen. They would also like the ending of the story.