The Adventures of Super Diaper Baby
Written by Dav Pilkey
Illustrated by Dav Pilkey
Reviewed by Nazrul C. (age 9)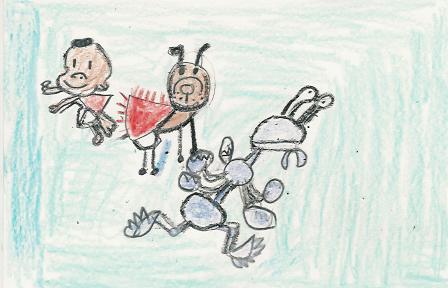 In the beginning a super hero is born! Then a bad villain named Deputy Dangerous tries to steal Captain Underpants? power, but then Super Diaper Baby dashes out of the hospital and beats up Deputy Dangerous!
Then Deputy Dangerous made a satellite to take Super Diaper Baby?s power but then Super Diaper Baby did poop. Yuck! And Deputy Dangerous turned into Deputy Poop. Then Deputy Poop makes a machine that makes you big. Then he drinks a super power juice, that he got from Captain Underpants, that gives you power, but Deputy Poop?s dog drank most of it. Then Deputy Poop got mad and screamed at the dog. Then at the end Super Diaper baby defeats Deputy Dangerous. Then Captain Underpants gets his power back. At the end Super Diaper Baby?s parents kiss in the mouth. Yuck!
This book is really funny because a baby saves the world from bad guys. Only a little baby saves the world and not even my baby brother can save the world. This can never happen in real life. It?s really funny when Super Diapers baby?s kiss in the mouth.
I recommend this book to my friend Marco and my family because they might think it?s funny.