The Hardy Boys-The Tower Treasure #1
Written by Franklin Dixon
Illustrated by Franklin Dixon
Reviewed by G.B. (age 9)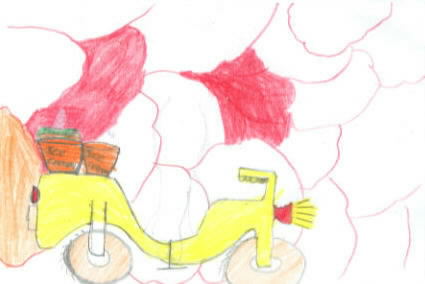 The Hardy boys are two brothers who are eighteen and seventeen years old who like to solve mysteries. In this book, they solve a very hard mystery. It started off with a stolen car and it was then discovered that the same robber stole gold and bonds from the Tower Mansion. It is also interesting how they solve mysteries. Do the Hardy boys find out who is behind the case?
My Favorite part of the book is when the Hardy boys are chasing people that took gold and money, but they soon got away. The police found masks in the trunks of the detectives' motor cycles and they thought they were the robbers' masks but they were really the detective's masks because the detectives were going to a party. This part and many other parts are funny.
This book has many feelings of excitement. It's exciting because the Hardy boys have to use maps and other things detectives use. It's interesting how they use the instruments to solve the mysteries. In the story there were also train chases and motor cycle chases. This book is very exciting!
I recommend this book to people who want to become a detective and to people who want to learn about detectives. I also recommend this book to people who like mystery, excitement, and action books.