The SpongeBob Square Pants Movie
Written by Marc Cerasini
Reviewed by M.F. (age 9)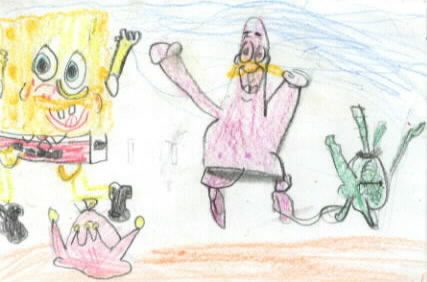 In the SpongeBob Squarepants book, SpongeBob lost the chance for KrustyKrab2 manager and Mr. Krabs gets struck by King Neptune when Plankton just started Plan Z. SpongeBob and Patrick go to Shell City while Plankton is taking over everybody's mind except Mr. Krab's mind. Will SpongeBob and Patrick get the crown in time or will Mr. Krabs get fired by King Neptune with his incredible trident?
I felt happy as I read this book because SpongeBob Squarepants protected his boss, Mr. Krabs, from a dangerous trident. Also, I felt happy in this great book because SpongeBob and Patrick beat Dennis in a fight they had!! Another reason I was happy when reading this book is because Spongebob and Patrick get to a far point. I felt happy reading through this book!
I enjoyed this book because SpongeBob and Patrick eat so much ice cream! Also, I enjoyed SpongeBob and Patrick living through not singing the Goofy Goofy Song for a short time. I enjoyed when Mindy just puts seaweed on SpongeBob and Patrick, then SpongeBob and Patrick think they are men because they think the seaweed on them are mustaches! The Spongebob Squarepants book was enjoyable to read!
My favorite part of the book was when SpongeBob and Patrick eat ice cream like crazy because it was really funny! Also, it was my favorite part of the book because ice cream was everywhere and SpongeBob and Patrick were not that smart when they were eating the ice cream! This was an exciting part of the story.
I recommend this book to others who like SpongeBob Squarepants. Also, I recommend this book to others who like funny things because this book is really funny! I recommend this book to others who like adventures because this is a big adventure for Spongebob and Patrick. This is a great book for people who like adventures.