Junie B. Jones and the Yucky Blucky Fruitcake
Written by Barbara Park
Illustrated by Denise Brunkus
Reviewed by N. F. (age 8)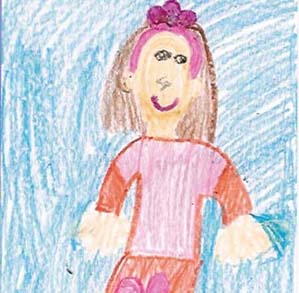 Junie B. Jones and the Yucky Blucky Fruitcake is about a girl named Junie who has a carnival adventure. In the beginning, the main character's parents go to work. After her parents left, Grandpa Miller watched her. When she went to school she found out there was a carnival.
When Junie got to the carnival she didn't win anything. A while later she won a comb. She didn't appreciate it although, her parents told her to. Then she went to other activities. Some of the other kids got prizes. Junie was upset that she didn't win anything!
Junie went to the cakewalk later that night. She won a delicious fruitcake but it wasn't what she expected. She tried it and did not like it, but she wanted to keep it. Will Junie ever find a good use for a fruitcake? Find out by reading Junie B. Jones and the Yucky Blucky Fruitcake! I enjoyed this book. My favorite part was when Junie went to the carnival because I love carnivals. I've read a book by the same author and it's alike because the same person is in it. It was interesting because Junie is very funny. Junie is funny because she played golf with a grapefruit! She also sat on a fruitcake. This book was so funny that I didn't want to stop reading it!
I recommend this book to people who could use a good laugh. It is also a great book to people who like adventures. Junie has a carnival adventure in the book. Junie also is a funny, silly, adventurous and fun girl. If I were Junie I'd be very funny and silly. I'd want to be Junie because sometimes her parents let Junie get away with things. Junie is a very funny girl and I'd want to be her friend because she is nice and funny.