The Gator Girls
Written by Lynn Munsinger
Reviewed by J. R. (age 8)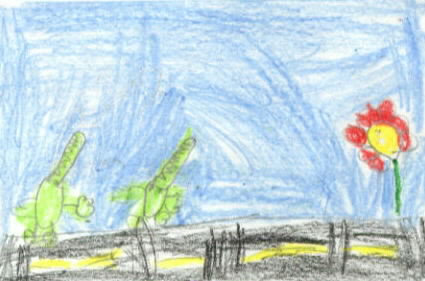 In the book, The Gator Girls, by Lynn Munsinger, Amy and Allie are the main characters. They are best friends. They always stay together.
In the beginning of the story the phone rang early in the morning. It was Amy's best friend Allie. They had a list of things to do together in the summer.
In the middle, Allie found out she was going to camp, but she did not want to go without Amy. They tied their legs together so they won't get separated. Their plan does not work. Amy and Allie have to finish their list before Allie goes to camp.
In the end, they finshed everything on their list in one day. They are sad to be separated. They don't want to be separated for the whole summer. Will Amy get to go to camp with Allie?
I liked this book because it is funny. My favorite part was when Allie threw a pebble in Marvin's cotton candy and he fell down. It was my favorite part because it was funny. Allie teases Marvin and Allie reminds me of my brother because he teases me too.
I think it is a good book because it is about two girls having fun. If you like Frog and Toad books should read The Gator Girls. The Gator Girls are like the book Frog and Toad, because in both books the characters work together.