The Meanest Doll in the World
Written by Ann M. Martin
Illustrated by Brian Selznick
Reviewed by Miranda S. (age 10)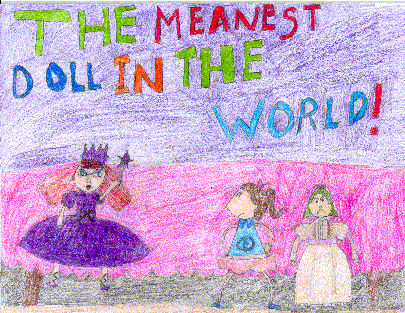 This is about a girl named Annebelle and her friend Tiffany. They are doll people. They were going on an expedition with Annebelle?s aunt. When they were going to the attic they all heard footsteps. Tiffany and Annebelle hid inside the closest thing to them. It was Kate?s,a human who owns the dolls, backpack! Find out what happens by reading The Meanest Doll in the World.
I think the book is adventurous because one time they were at home, then school, then at a boy?s house, then home again. My favorite part was when they came back to their original house and they thought they were away from Mean Mimi, but then she got into Kate?s backpack and came to their house. Annebelle reminds me of myself because I have two younger siblings. I found Annebelle?s aunt interesting because she likes spiders.
I recommend this book because it is thrilling, surprising, and adventurous. I recommend this book for girls ages eight and up. I like Annebelle because she is nice and smart. I bet you will like her too, if you read The Meanest Doll in the World.