The Winter of the Ice Wizard
Written by Mary Pope Osborne
Reviewed by A.G. (age 9)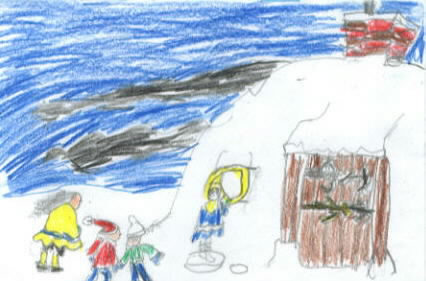 Winter of the Ice Wizard is an adventurous book about Jack, Annie, Teddy, and Kathleen's mission to find the ice wizard's eye. Jack, Annie, Teddy, and Kathleen have to find the Ice Wizard's eye and get the staff of light to free Morgan and Merlin. They find the Ice Wizard's eye but it doesn't work because his heart didn't have any love in it. Will Merlin and Morgan come back or will they stay trapped forever?
This book was really enjoyable because I took my time reading it. It was also really enjoyable because there was a wolf attack. Also, this book was fun to read because there was an ice wizard that wanted his eye back. This book is great because you can't take your eyes off it.
I liked the illustration of Jack, Annie, Teddy, and Kathleen looking at a beautiful ice castle. I also liked the picture of Jack and Annie when they were looking at two people that they thought were bad. I also liked the illustration of everybody in a magical ship that flew in the air. I liked the illustrations in this book because they were interesting and detailed.
My favorite part of the book was when everyone goes to the three old sisters to find the eye, but they do not find it. The three sisters say it is at the Frost Giant's lair. They found out there is no Frost Giant and get the eye .This part was excellent to read!
I recommend this book because it will make you feel happy. I also recommend this to other people because it is really fun to read!. A book like this is great for all ages!