Spiderwick The Field Guide
Written by Tony Diterlizzi
Illustrated by Holly black
Reviewed by L.Pa. (age 8)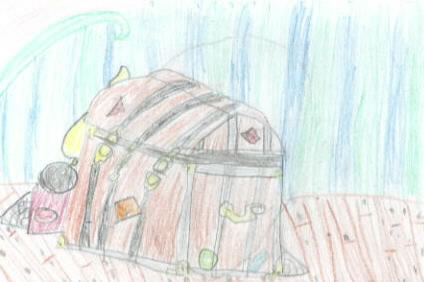 The Spiderwick Chronicles is about two brothers and one sister who move into an old house with their mother because she got a divorce. When they walked in the house they saw cobwebs and a whole lot of dust. Mallory and Simon Grace soon find a secret library. Inside, they find a little Birdhouse and Simon Grace accidentally knocked it over and broke it. After that, strange things began happening to them. Mallory's hair tied to the bed, a mess in the kitchen. Simon Grace eventually went into the attic and found a trunk. He felt around the trunk for a secret passage and found one with a cloth covered book inside. He the unwrapped it and started reading it. He read about something called a Bogart and thought a Bogart lived in the house they knocked over in the secret library. That night Jared and Simon Grace snuck up in the library and on the desk right there in front of them was a Bogart. They made him a new house and each of them put something in it. Will the Bogart like his new house?
This book is unique because it has something called a Bogart which you don't read about every day. It also is unique because it has a birdcage for a elevator. Another reason this book is unique is because it has a secret library. There are many unique things and events that happen in this book!
Jared was an interesting character because he likes to explore and be brave. He is also interesting because he tries to prove things are true that don't make sense. Jared is also interesting because he likes to read. Jared has many interesting traits about him!
My favorite part of the book was when Mallory's hair got tied to the bed. I liked that part because when I read it I was laughing so hard that I almost fell off my bed. I also liked it because it was fun to read and when I show my friends they start to laugh as well. I recommend this book because it is very exciting and mysterious. Another reason is because you could laugh your socks off. Finally, I recommend this book because it is like a trail of clues to find out weird things about the house and the people who lived there. I would recommend this book to anyone who likes to read mysterious books!