Alien Clones from Outer Space
Written by H. B. Homzie
Reviewed by S. G. (age 9)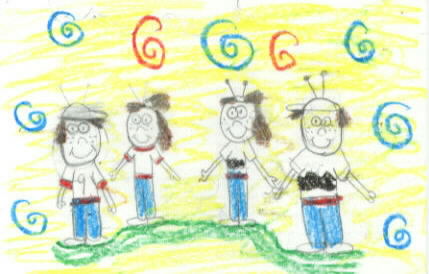 In the book, Alien Clones from Outer Space, by H.B Homzie, the main characters are Barton and Nancy. They are brother and sister. They work at a pet shop together.
In the beginning, Barton and Nancy have clones of their own. Beta is Barton's clone and Gamma is Nancy's clone. Beta and Gamma are from outer space.
In the middle, all of Barton's and Nancy's friend's think they are weird. They think they are weird because the clones are doing weird things. Everyone thinks the clones are them. Barton's and Nancy's clones take care of the pet shop.
In the end, the clones lock Mrs. Schnauzer in a cage. They set all the animals free. Barton's and Nancy's mom and dad don't let them go to the Woptic concert.
Will Nancy and Barton ever see Woptic in concert? Read this book to find out!
I like this book because it is funny and makes me laugh. My favorite part was when the clones locked Mrs. Schnauzer in a cage. It was a funny thing and made me laugh. Beta is just like my brother. They are both very silly, they both like to laugh a lot. It made me feel happy. The book made me wonder how the clones get on Earth.
If you like clones from outer space, this book is perfect for you. The clones in this book are funny.