Science Fair From the Black Lagoon
Written by Mike Thaler
Reviewed by RiccardoG (age 7)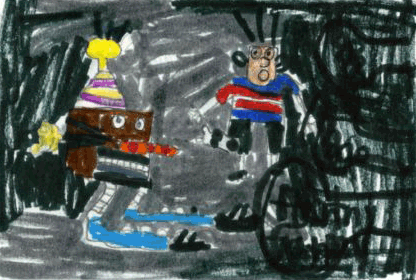 This book is about a science fair. Hubie is the main character. He has to invent something for the science fair or he will fail. He wants to clone himself because then he will have someone to do all of his chores for him. Then he has a daydream and comes up with the idea of making a laugh machine. He is almost out of time. Read the book to find out how he does it.
I liked the character Hubie because he used words that didn't make sense. The silly language in this story made me laugh. I liked how the author used different spellings for the names of the chapters. The illustrator used a lot of strange and unusual pictures with a lot of detail. They were interesting.
I recommend this book to first and second graders and above. I think they will like the story and will want to make a laugh machine for a science project, too!