Kites
Written by Bettina Ling
Illustrated by Bettina Ling
Reviewed by D.D. (age 7)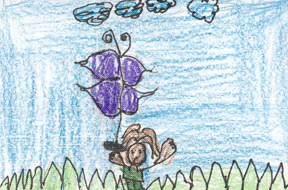 Do you like to fly kites? Then this book is just for you. You will see kites in many different colors and shapes. Some of the kites are very special because they look like animals.
I like this book because the kites come in the colors of the rainbow. When I read this book, I wondered what it would be like to fly a kite. This book made me want to fly one. I think it would be fun. My favorite part is the last page because the kites match the rainbow.
This book will be easy for kindergarteners. I recommend this book for kids who want to fly a kite. I think they would like the different colors and shapes of the kites, too.