Danny, Champion of the World
Written by Roald Dahl
Illustrated by Jill Bennet
Reviewed by Autumn A. (age 9)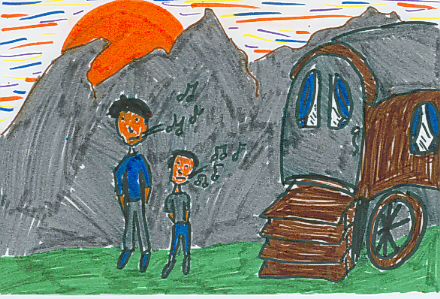 In Danny's life nothing could be better! Even though he lives in a small old caravan, has but only one parent, has practically no money, Danny has a life no normal boy could wish for. Danny's father has a deep dark secret. It's so deep and so dark that he doesn't even tell Danny. Why would a father hide a part of himself from his son? Does he ever tell Danny and what is his secret? Read this to see what kind of wild adventures Danny and his dad get into!
I liked this book because it just brings you right into the story itself and lets the reader experience what the characters are feeling, thinking and doing. For example, when Danny was scared and his dad didn't show up at the caravan one night, it really made me feel worried and anxious about what was going to happen next. In this book mysterious things are happening on every single page of this fantastic book!!
I recommend this splendid book for kids and adults that enjoy stories with interesting language, great descriptions, courage and fearful but exciting things happening in every chapter of the book!!!