How I Became A Pirate
Written by Melinda Long
Illustrated by David Shannon
Reviewed by Kyle L. (age 7)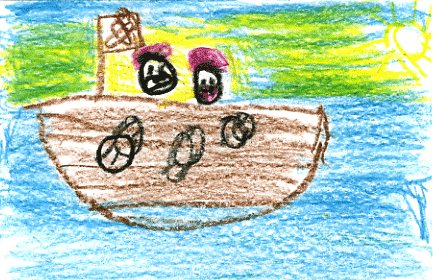 A litte boy saw a pirate ship. He tried to tell his mom, but she was busy with the baby. His dad was too busy setting up the umbrella. The pirate went on shore, and took the kid on the ship. The pirates showed the kid how the pirate's way of life is done. They showed the kid the treasure they found. There was a storm,so they waited until the storm was over and then to bury the treasure in the kid's backyard.
I like the part when they saw the gold because it feels like you could find gold. I like the kid the best because he let the pirate bury the treasure in his backyard. It is related to my life to my life because I found a treasure like they did. The story has pictures that help tell the story.
I think you should read this book because it will sail you to another place.