Horrible Harry Moves Up to Third Grade
Written by Suzy Kline
Illustrated by Frank Remkiewicz
Reviewed by Amanda C, (age 7)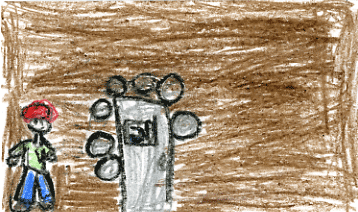 Harry and Doug forgot to read what room number was on their report card. They went to the office and Mr. Cardini told them it was room 3b. Mis Mackle was their teacher for third grade. Sidney, Mary, Song Lee, Ida, and Dexter were in their class. Miss Mackle made everyone bring in a summer moment to share with the class.
My favorite part of the story is when the class went to the mine because it had lots of copper and the copper was shiny. My favorite character is Song Lee because she is a nice person. I like the pictures because they help tell the story.
I think others should read this book because it's funny and it will make you laugh.