Arthur's Valentine
Written by Marc Brown
Illustrated by Marc Brown
Reviewed by Kenny V. (age 7)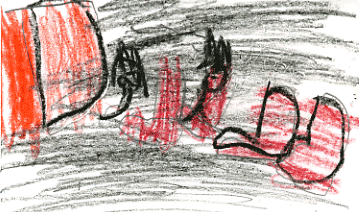 This story was about Arthur getting valentines from his secret admirer. When Arthur received the first mystery card he thought his friends were playing a joke on him, but he was hoping it was from Sue Ellen. After the second and third love cards, he thought for sure it was Sue Ellen. He wrote a love card back to her. Then he found out that it wasn't her. He felt sad and wanted to be alone. He climbed up to his tree house and found another love card, inviting him to the movies. He went there and found out it was Francine.
My favorite part of the story is when all of Arthur's valentines fell out and everyone laughed because it was funny. My favorite character is Arthur because I think he was brave when he wrote the valentines back to Sue Ellen. This story does not relate to my life because I don't have a secret admirer.
I think other should read this story because it's very funny and the pictures help tell the story.