Lewis and Clark and Me
Written by Laurie Myers
Illustrated by Michael Dooling
Reviewed by Michael S. (age 11)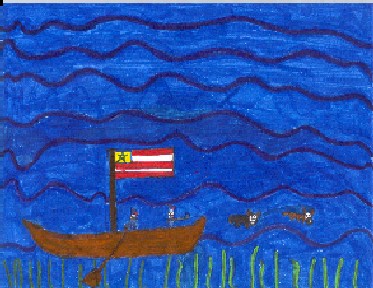 This story is about the Lewis and Clark expedition. Lewis and Clark go on an expedition through the vast territory of the western part of the United States of America. Also as they are on their expedition they run into Indian tribes, and other fascinating things. But if you want to know more then you must read Lewis and Clark and Me.
I thought that this book was great because I like books that have expeditions in them and it is based on a true story. My favorite part of the book is chapter 2 because they went squirrel hunting. As I read this book I imagined that I was in the book. One of my favorite characters was the dog named Seaman because he is telling the story from his point of view.
I recommend this book because it is a great book because you get to learn about American history. I would recommend this book to readers that like to read about adventures. The illustrations in the book are great to look at because you can imagine being there at the scene during that time period. Kids ages 7 - 15 would enjoy reading this book because it is appropriate for this age group.