Mother Goose and Grimm's Night of the Living Vacuum
Written by Mike Peters
Illustrated by Mike Peters
Reviewed by Benjamin C. (age 10)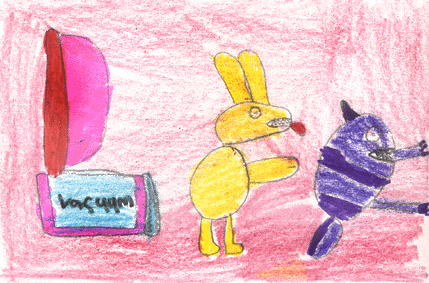 This comic book is about Grimm and Attila and their journey. Attila is a cat that is afraid of everything. Grimm is a dog that is brave and smart. These characters are always in trouble. Grimm and Attila meet their match when a vacuum starts attacking them. They start running and hiding from the vacuum and getting into more trouble then they already were in. At the end they finally blow up the vacuum.
One of my favorite parts in this book is when Grimm visits candy land and the vacuum starts eating the candy. Another of my favorite parts is when he goes to the vet and puts shaving cream on his face, and he tells the people that he had rabies. My favorite character is Grimm because he is very smart.
This book made me feel happy because it is very funny. I think the illustrations are good. This comic book has 159 pages of cartoons and 16 of them are in color.
I recommend this book to people that like comedy. I would really like kids to read this book because it is funny. I would also recommend this book to people that like comics.