Magic Tree House: Twister On Tuesday
Written by Mary Pope Osborne
Illustrated by Sal Murdocca
Reviewed by Riley M. (age 8)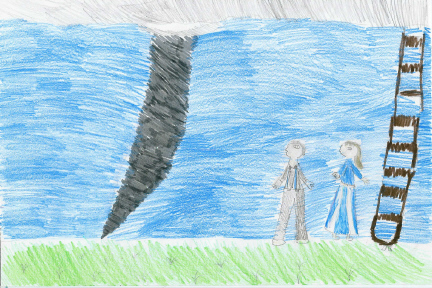 This book is about two kids that found a Magic Tree House and the Tree House takes them places.
Annie and Jock were looking for a book. Annie found a book about Australia. Annie and Jack opened it up and said they wished they could go there. All of a sudden the wind picked up and the tree house started to spin. It spun faster and faster.
Then the wind stopped. Everything was calm. Annie was now wearing a bonnet and Jack was wearing overalls. Annie and Jack looked out the window. They were on the prairie. If you want to find out what happens next you should read the book.
I think this book is very adventurous and exciting. My favorite part is when the twister can and Jack and Annie were really close to the twister. They ran so fast, the twister was coming closer and closer. Do you think Annie and Jack made it?
I have read another book by the same author. The book is Midnight on the Moon. They are alike because they both have action in them and the characters solve mysteries.
I like the illustrations because they really tell what is happening, like when they are in the tree house looking out.
I recommend this book to kids who like adventurous books and a lot of action. Second graders should read this book.