Jell-it Jack
Written by Ellie Beaumont
Illustrated by Frank Kennedy
Reviewed by Darell C. (age 9)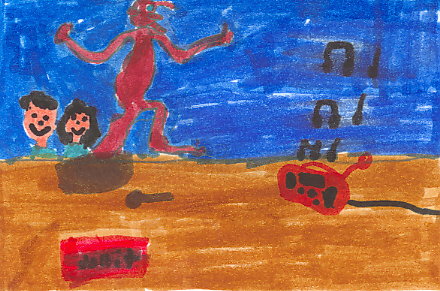 This book is about a kid who likes cherry Jell-It. "Ice cream was out that summer. Jell-It gelatin was the thing." One day he went to the super market to get some Jell-It for the eat off contest and there was one box of cherry Jell-It. When Nick Noble came on his skateboard and he grabbed the Jell-It out of the kid's hand. The kid went flying into the mango-flavored boxes. When he started to pick up the boxes the man from the store gave him a "free box of any flavor he wished for". He made a wish for the coolest Jell-It on the planet. Jell-it Jack then jumped off the counter and started to dance. How does Jell-It Jack help the kid?
I liked the book because it was funny when Jell-It Jack jumped off the counter and started to dance. I could hear the music in my head. I wish I could change myself like Jell-It Jack could change himself. The illustrations were in black and white and showed Jell-It Jack gets sucked through a straw. I have never read a book like this that had a guy made out of Jell-It. A lesson to be learned is to be careful of what you wish for.
I recommend this book to kids who like humorous fiction books. The vocabulary is easy to understand and makes for a quick read. Also, there is a tape included so you could listen to the story.