The Twits
Written by Roald Dahl
Reviewed by Sara M. (age 9)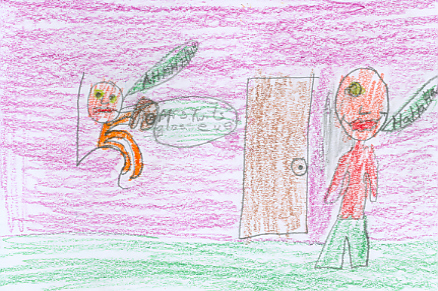 What do you think of when you think the word "Twits"? Well, I think of my siblings or my cousins, but you might think of someone else. Who might you think of? Now lets go to the book. The Twits are not a very nice couple, and they play tricks on each other. The first trick is when Mrs. Twit takes out her glass eye and puts it in Mr. Twits beer mug. But you'll have to find out the rest of the tricks when you read the book. In the chapter, "The Carpet Goes on the Ceiling", the book gets fun, hilarious and thrilling. Will Mr. and Mrs. Twit ever be nice? Read this book to discover what happens.
I enjoyed this book because the author used funny names and words. Roald Dahl makes up words alot, like the name Mugle Wump. The drawings are funny too. The people are drawn as stick people, and they are very simple, but they are still crazy looking. They really look like what Roald Dahl is describing. My favorite part in the book was when the Twits got glued upside down. The Twits really are very ridiculous people. They're not like anyone you would normally know.
I recommend this book to 1-3 graders because it's not very long and because it's very creative. I recommend this book to people who have good imaginations.