The Kid in the Red Jacket
Written by Barbara Park
Illustrated by Rob Sauber
Reviewed by Hailey B. (age 10)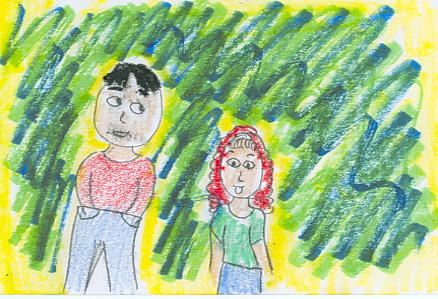 The Kid in The Red Jacket is a hilarious book. It is about a boy named, Howard who moves to a new town and has friend problems in school. Howard is excited to meet someone new. He finally meets someone and that someone is named Molly, a girl about five years old who lives next door. Turns out, Molly is the most annoying person he has ever met! Molly has one forever secret about why she lives with her grandmother next door. This book teaches us to be kind to everybody. Will Molly tell her secret or will someone find out on his/her own? Read the book to find out.
I really enjoyed this because it reminds me of my life with my brothers Hunter and Holland. This book had a character named Molly. Molly reminds me of my littlest brother, Holland. Holland kisses my friends, jump ropes like an elephant and he asks my dog questions. They can be really annoying like Molly. My favorite part in the book was when Howard looks out his window and notices Molly spraying a cat with a hose! At the end of the book Howard changes a tad bit. He warms up to everyone in town!
I recommend this book to boys and girls who are younger than 13. They could relate to the characters in the story like moving to a new school. This is not like any book I have ever read! The events that happen made me feel happy like the time when Molly followed Howard around like a puppy dog. I found this book interesting because she was always worried about whether Howard was in a good or bad mood! When I was reading this book it made me feel entertained. I hope you will read this five star book.