How to Make Four Million Dollars by Next Thursday
Written by Stephen Manes
Reviewed by Emily M. (age 9)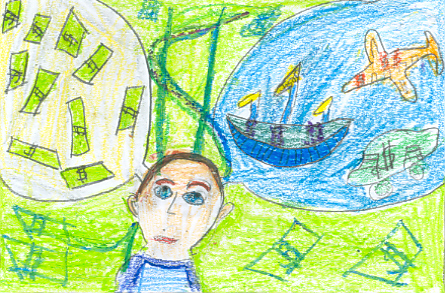 "Can a book really teach you how to make four million dollars by next Thursday?" Jason Nozzle thought so one day when he was walking home from school. He reached into his pocket and found that he had lost his allowance money! He searched EVERYWHERE for it. While he was searching, he saw dollar signs. The dollar signs were the cover. It was a book about how to make four million dollars really fast. Will Jason ever make four million dollars? Sorry, I can't tell you, but if you want to know, you better read this book!!!
This book made me feel like I was Dr. Silverfish because it felt like I was telling Jason what to do. Jason reminded me of my sister because she always wants a lot of money, but she spends it on: earrings, dance shoes, clothes, candy, toys, gum, books and all that stuff. It seems like she can't hold on to it. What I noticed about this book was that it was written like Dr. Silverfish was telling the story. In the book, his words are in bold print so the reader can tell what he is saying. This is one of the best books I've ever read!
I would recommend this book to people who would like to make four million dollars and like to laugh. Stephen Manes likes to shock people with his disgusting words he uses when Jason and his family are talking. Here's one: "Jason took out a tomato-zucchini honey - granola yogurt bar and a couple of cauliflower chocolate chip cookies, and poured himself a glass of cranberry-rutabaga-broccoli-juice". Yuck! If you like Stephen Manes' books, you would love this book! He also wrote Be a Perfect Person in Just Three Days.