Sylvester and the Magic Pebble
Written by William Steig
Illustrated by William Steig
Reviewed by Haley D. (age 7) & Samantha R. (age 8)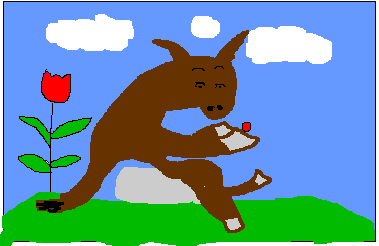 Sylvester is a donkey. He found a pebble and it was magic. He made a wish and it came true. Then he got lost and no one helped him. Sylvester was wrapped up in a ball. He got stuck in the rain and stuck in the sunshine and got stuck in the snow and it rained overnight. A lion went around him and was wondering what he was. He stayed overnight. His parents we so sad they started to ask the neighborhood, "Did you see my son anywhere?" All the police?s dogs went out and they were looking for Sylvester. Sylvester made a wish and it came it true. His mom and father went on a picnic and then a surprise happens.
We want to recommend this book because it sounds real when his wish comes true. The pictures and words have a lot of details. Like when all the dogs are smelling, sniffing and looking for Sylvester, the picture shows trees, bushes, houses, flowers and the sky.
It reminds me (Samantha) of when my mom didn?t know where I was and called the cops to find me.