Magic Tree House: Midnight on the Moon
Written by Mary Pope Osborne
Illustrated by Sal Murdocca
Reviewed by Hunter L. (age 8)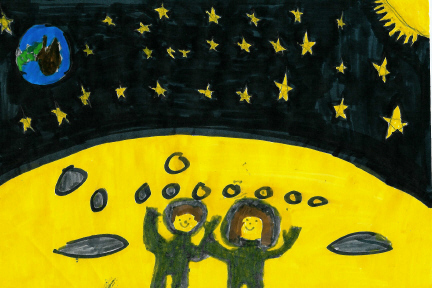 This book is about Annie and Jack and their adventure on the moon. There are a lot of lessons to be learned in this book. For example, never fall down on the moon because it is hard to get up! Jack and Annie met a moon man with an air tank as big as a refrigerator even though it was a jet pack.
I liked this book because it was on the moon. I learned a lot about the moon from the book. For example don't fall down on the moon because it is hard to get up. This is because there is no gravity on the moon and the boots you need to wear are too heavy to get up.
My favorite character was the Moon Man because he had a jet pack. I thought it was cool that he had a jet pack. He used it to fly around space without having to go back down to the moon. He helped Annie and Jack get up when they fell down.
My favorite part was when Annie and Jack met the Moon Man! He helped Annie up when she fell down by taking her hand and helping her up. Then Annie helped Jack. I also liked that he was really big because big people can do more things then little people.
I recommend this book to second through fourth graders. I think they will really like it because it is an interesting and funny story about two kids on the moon.