The Littles and the Secret Letter
Written by John Peterson
Illustrated by Jacqueline Rogers
Reviewed by Christine J. (age 9)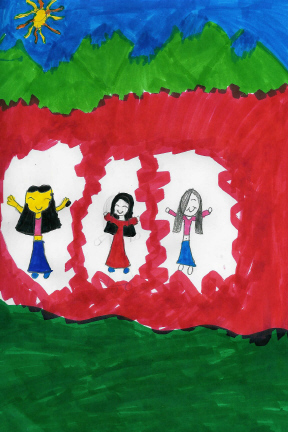 This story is about the Littles and how they lived inside the Biggs' house. The Littles are small about the size of mice. The Biggs do not know that the Littles live in their house. Lucy Little sent a letter and a card to Henry Biggs on his birthday. Tom, Lucy's brother, had to get the letter back before Henry saw it during his birthday party.
I liked The Littles and the Secret Letter. I liked the pictures and the story. I liked the pictures because they showed what was happening in the story. I liked the story because it was fun to read about small people living in a big house.
My favorite part was when Lucy looked down at the birthday party. She was watching the party wishing she could go to it. I liked it because she wanted to be best friends with Henry.
The characters I liked best were Lucy and Henry. I liked Lucy because she is nice. She is nice because she sent Henry a birthday card. I liked Henry because he had a birthday party with his friends. The party looked like fun and he had to open his presents.
Yes, I recommend this book. It is fun to read. I think second graders would like this book. Second graders would like this book because they like birthday parties.