Salt In His Shoes
Written by Deloris Jordan
Illustrated by Kadir Nelson
Reviewed by Anthony G. (age 9)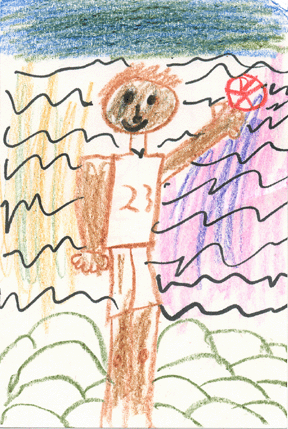 This story is about a boy named Michael Jordan. Every Saturday he follows his two brothers to the park to play basketball. He always asks if he could play. Sometimes he would try to make the ball go into the hoop but he was too short. When he went home he would tell his mother that his team didn't win because he was too short. His mother said " We'll put salt in your shoes and say a prayer every night . Before you know it, you'll be taller." He was so happy he started to spin the ball. He prayed to God and every night his mother put salt in his shoes. The next day, he went to church. The next day after that he woke up and measured himself and he was taller. Then he went to go play basketball. He shot the ball. Find this book at a local library and read it to find out what happens when he shot the ball.
This book made me feel happy. It made me feel like even if you are small you do not have to be good at every thing because what you can do, you can do. I like this book because it encourages you do your best at everything. People can do a lot of things but everybody's not good at everything. I like this book because his mother encouraged him to try his best.
I recommend this book to kids who like reading sports books or try to learn about sports because this book is a good book to read.